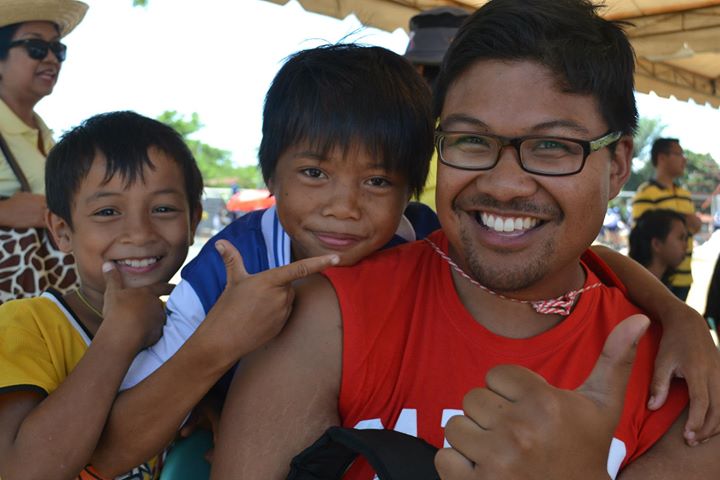 In my travels, I've been lucky to run into fellow Pilipinos born and/or raised overseas who return to the nation of their heritage in hopes of contributing positively towards various causes. In this series, I hope to give the spotlight to these amazing balikbayans. We are well into Bayani Challenge 2013. I'm taking one of my many breaks during the build. As I attempt to cope with the humidity and try to finish the syrupy sweet concoction that makes up a bottle of Sting energy drink, my eyes slowly lock on to Captain Canada. He's once again with Alvin and John Vincent, children of kapitbahayan, the beneficiaries of Gawad Kalinga (GK) homes. The duo enjoyed Captain Canada's company to the point where it seemed like they were inseparable throughout a good portion of the day. I couldn't help but let my imagination run loose and picture that -- despite the likes of a language barrier -- how much of an impact he was making to those two, just as they would make an impact for him.
I've been participating in the Bayani Challenge (BC) for four years and this was the first time that I worked alongside a team from Canada. The team itself was led by Brian Morales, an airport ramp agent residing in Calgary and the man behind the super-heroic nickname. While Brian endlessly advocated in getting as many Fil-Can GK advocates to join him, the team itself was small but was nonetheless impressive: to be able to encourage a handful of his friends to dedicate at least a week of their time and resources to trek as far away as childhood home of Montreal and join us in this build is something enviable. Who knows how much larger our team would be if all of us managed to have successfully done the same!
As recently as a couple years ago, the Philippines was a distant land for Brian, himself having visited just twice in his twenty eight years. That soon changed, thanks to a three-pronged encounter that started with a visit six years ago and inspired him to bring that distant land closer to his heart. His first encounter was in a benefit concert for Gawad Kalinga, where he was reminded of his nieces and nephews as he watched a video of kids from a GK village. He left the concert with a resolve to bring a brighter future just he and those close to him have been given. The second event was on a Cebu Pacific flight into the country as he picked up a seat-back copy of the inflight magazine. It had an article on the biodiversity of the Philippines and how it was being tragically lost in the name of progress. The final piece that completed the trifecta occurred during that same trip, where he witnessed the Pilipino hospitality and family bond that his relatives shared with him despite two decades of separation. By then he was determined to return more often and to make every visit one where he would a difference.
On a grand scale, Brian is a supporter of the objectives that Gawad Kalinga has set for the year 2014, especially the goal of lifting five million families from poverty. It certainly is an ambitious target but he is a believer. Through his interactions with Amir Billones, the gentleman whom he owes a lot of his involvement in, and Tony Meloto, the founder of Gawad Kalinga, Brian has passionately advocated the GK mission throughout Canada. On a more personal level, he's encouraging fellow Fil-Cans and Fil-Ams on the awareness on the fragile conditions of natural beauty in the PI.
Whenever he can, he's busy doing just that. He's constantly looking for Fil-Cans and fellow overseas Pilipinos to join him at the annual Bayani Challenge. The event has now been extended for a span of two months (a major upgrade from the Holy Week stint that we're normally accustomed to and provides flexibility for participants) in which we can spend a few days working together with teams representing diverse backgrounds and in locations across the nation with an emphasis on the typhoon-hit regions. He also encourages individuals to visit a hub of several socially conscious enterprises in Bulacan known as the Enchanted Farm, a place whose members have left him with confidence that poverty in the Philippines can be eliminated.
His last piece of advice? No matter what cause you're in:
"... Share the stories. Take the photos. Use Instagram, Facebook, Twitter and Tumblr what have you... you'll be surprised at the reach that you will provide that can contribute to the good in this world. Tell the stories!"
He is truly a man that walks the walk. On our last day at the Bayani Challenge build site, I noticed the final encounter Brian had with Alvin and John Vincent. This time he had two inspirational books to give them, each with a note scribbled on the inner cover. He hopes that one day, both boys will pick up these books, look at the notes, and will be inspired even more.
As I type this, I'm sure Brian is out there in the Albertan winter towing a Boeing 767 out of its gate. As those CF6 engines roar to life and kick up some snow, he's wearing those noise protection headsets… but under them are a pair of ears who are eager to hear the stories of those contributing to the good in this world.