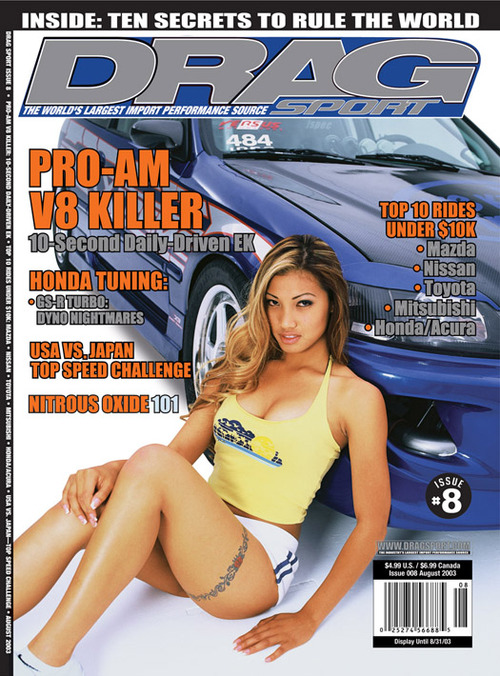 By Nicole Maxali, guest contributor In college I took a women's studies class. It was a class on the study of how women are represented in mass media. Entering this class, I knew the sexual objectification of women was not a new phenomenon. But one of the assignments was to document and cut out ten ads that either objectified women or depicted women as objects. We had to also write a short analysis of how or why the ad was objectifying women. I found it was super easy to find images in magazines to complete this assignment.
At the time of this assignment I was also beginning to model at various car shows as a side hustle. Surprise! Yes, before I turned 21, I was one of those Fast and Furious car show models (like the one pictured below). I'll save you the time and energy of searching on Google for any pics of me bending over a hood of a car in short shorts and a sports bra… because there are none! This was before things like the iPhone, Facebook & Instagram. Whew!
I realized very quickly that using my female form to help promote "rice rockets" wasn't something I felt very comfortable with. Most models at these car shows enjoyed the attention and the flocks of men wanting to take their pictures. But after two gigs and my women's studies class assignment, I reached the conclusion that I didn't want to be known as just a hot body. 
I felt I was facing a fork in the road, I could choose to continue with "modeling" and be known as the other "Nikki" within the car show scene (the picture above is of the very popular Nikki Cash on the cover of Drag Sport magazine). Or I could focus on my writing and acting and do something with the talents and skills God blessed me with. Follow my passion? Or follow the road filled with fast cars, cash and VIP bottle service? As you can see now, I choose my passion. Sorry, creeper dudes! But there's plenty of sexy Nikki Cash pix on the web for your perusing.
For my tenth image in my women's studies assignment, I choose a picture of me modeling in front of a supped up Honda Civic with a spoiler so big it made the car look more like a shopping cart. And instead of an analysis I wrote a letter to my professor thanking her for solidifying the fact that my worth was not based on my physical appearance and that allowing men to objectify me for their gain was something I had control over.
Looking back now -- and looking at the plethora of "models" so popular on Instagram (IG) -- Do I regret that I didn't take the easy path? No. Not even for a little bit.  Because when I die, even if I don't have model money, I don't want my legacy to be known for my ability to sell products or my ability to look super skinny and hot in 4,000 of my IG photos. I want my Goddess Daughters to be able to see someone they can aspire to. To know that their worth isn't just how they look, but that they beauty they can bring to this world is with their minds, hearts and actions. I do what I do for them.
Today, what is new to the objectification of women is the prevalent use of Photoshop and technology to slim and "beautify" the image of women (and celebrities in general) in media and advertisement. This type of beauty becomes an impossible image to aspire too. It is yet another struggle young girls and women face as they grow up in this world. To not only be "beautiful" but to also be perfect. I want to instill in all little girls that beauty begins from within. 
–
Nicole Maxali is a New New Yorker. Native to San Francisco, she began performing at Bindlestiff Studio, the only Filipino-American Theater in the nation. In 2008, Nicole Maxali wrote and performed her very first solo show under the tutelage of W. Kamau Bell (FX's Totally Biased). Under the direction of Paul Stein at Comedy Central Theater, Nicole developed her original twenty minute piece titled "I Heart Lola" into her full length show, "Forgetting the Details". Described by legendary comic Dave Chappelle as "funny, heartwarming and funny again", Nicole Maxali's 75 minute solo performance piece explores the familial and cultural-related challenges a young adult faces when losing a loved one to Alzheimer's. She has performed her solo show at the famous Joe's Pub at The Public Theater in New York City, The FIND Conference at Harvard University and the Minnesota Fringe Festival. You can also see Nicole on the big screen as a surgical nurse in the independent film, Fruitvale Station, produced by Forest Whitaker & directed by Ryan Coogler.
The original version of this post, inspired by "Killing Us Softly 4", originally appeared on Nicole Maxali's blog.