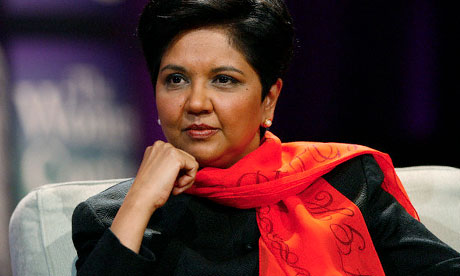 In a recent interview with The Atlantic, PepsiCo CEO Indra Nooyi claimed that women need to give up certain aspects of motherhood in order to have a career. Women and their careers are always in the hot seat because traditionally, women were required to take care of the house and the children, and if a woman didn't, she would be seen as a terrible mother.
Indra Nooyi's claim about motherhood versus career does pose some challenges for the fight against the stereotypical traditional family dynamic. Should such a line exists, one that designates how far a mother can go in her career without giving up her role as a mother? What about the opposite—how much dedication does a mother need without giving up her career?
To most parents, the children come first, but should there be a line? Is there no line? Without having had any children at my young age, I can't possibly comprehend the difficulties that mothers and fathers face.
When Nooyi talks about her daughter's constant disappointment when she misses her school functions, she says, "… you have to cope, because you die with guilt…." Nooyi has developed an intricate coping mechanism that involves her parenting through her receptionist. Her children would call the office for permission to play Nintendo to which the receptionist would ask a series of questions until she gets a satisfactory answer. Although not ideal, this is how Nooyi manages to be a mother and the CEO of PepsiCo.
On the flip side, can men have it all? Even as women make strides to establish themselves as legitimate colleagues, if they neglect their child even for a minute, it is deemed worse than if a father did the same.
An article in Psychology Today outlines the differences between the expectations of motherhood versus fatherhood. "The modern mother, no matter how many nontraditional duties she assumes, is still seen as the family's primary nurturer and emotional guardian. It's in her genes. It's in her soul. But mainstream Western society accords no corresponding position to the modern father. Aside from chromosomes and feeling somewhat responsible for household income, there's no similarly celebrated deep link between father and child, no widely recognized 'paternal instinct.'"
Recent times, especially movies and shows, have tried their best to reform that view and bring the role of the father to a comparable degree to that of the mother. The "celebrated" role of motherhood and fatherhood put a great stress on the bonding factor between parent and child, but one can't help but see the obvious societal disapproval if the mother neglects rather than the father.
Women can't have it all. If they follow their dreams, they are guilty. If they dedicate themselves to their children, they are guilty. No matter what, perhaps coping mechanisms really are the only way women can deal with the guilt.
Photo Credit: Mario Anzuoni (Reuters/Corbis) and ClipArtBest.com